After the first night in our new house, it was time to explore the Kerry, starting with the Iveragh peninsula for what is known as the Kerry Ring :
Agrandir le plan
So we left Sneem (H point) on the morning and headed West. The first stop was for the Staigue Stone Fort (point B), ruins of a stone fort quite well conserved.
Then, we kept going along the coast of the Kenmare River, which provides stunning landscapes :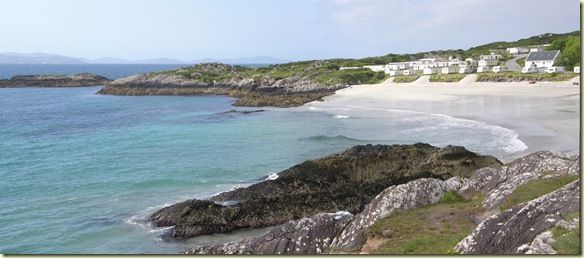 Then, we arrived in Waterville (point C), a little town endowed with a lot of hotels of course and resort places and an enormous beach. And also, Charlie Chaplin seems to have enjoyed the place long ago, that's why you'll find a statue of him there :
We then drived on, to do the Skellig Ring, the peninsula of the peninsula itself, remote, barren, with little communities here and there. However, it also has the greatest cliffs ever (don't forget to bring 4 euros to visit the site as we learned it there) :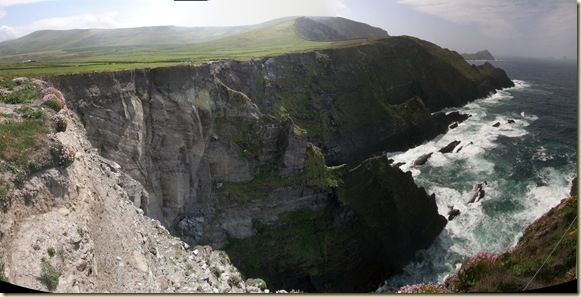 We then stopped in Portmagee (point E) for a lunch in a sailors bar/restaurant quite friendly, with even a singing Irishman, perfect to add up to the atmosphere. And after the traditionnal fish-and-chips, we drove up the north coast of the Iveragh Peninsula, until Rossbeigh, a long sand bank cutting into the sea towards north and which is a leisure place for a lot of people during weekends :
Then at last it was time to come home, and, instead to pass through the Lakes and Killarney, i suggested to take the little road cutting straight through the mountainous part of the peninsula. On the map, there is a road indicated, however, the more we kept driving, the narrower the road was getting, and the less cars we could see around us… Fortunately, in a sense, because we wouldn't have been able in some places to pass another car coming in the opposite direction. At last we reached the Ballaghbeama Pass (point G), which is one of the highest point of the whole peninsula :
And after more than 45 mins on the other slope, we eventually got back to Sneem (H) safe and sound.