Our destination today : the Beara Peninsula.
Beara is the peninsula on the south of Iveragh. We first stopped at Bonane, where an Heritage Park was supposed to give us quasi-prehistoric monuments of the stone age. However, if the view was great, the place in itself left a lot to the imagination.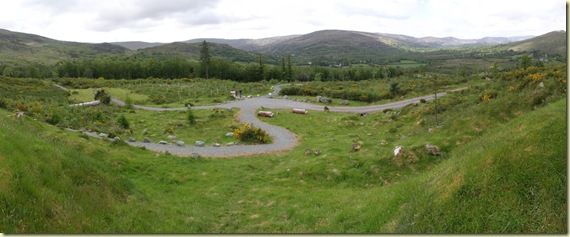 In the middle picture, you can see where was supposed to stand a fort, just like the one in Staigue Fort. However, nothing really remains except the ditch. The crannog, on the right side, is not genuine, but a reconstitution. In short, if you happen to cross Bonane, don't stop at this Heritage Park, it's a waste of time and money (4 euros by person).
Then, we crossed the Caha Pass, the limit between the Kerry County and the Cork County (because Beara peninsula is shared between both).

And we drove down to Glengariff :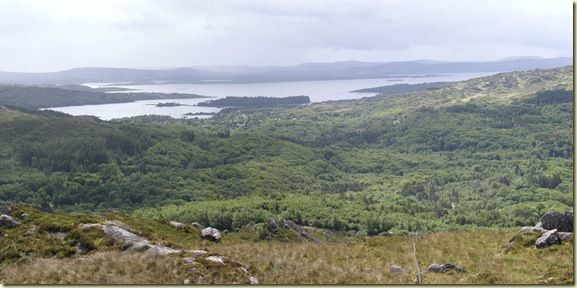 Glengariff is a very little town, but with its almost tropical climate, its most distinctive feature is its flora, and a mediterranean-looking shore :
After a meal in a pub, we drove on the south shore of the peninsula, which is rocky, barren, sun-burnt almost ! Here is the Bantry peninsula view :

And then, we climbed again another pass, the Healy Pass, to go on the northern part of the peninsula, enjoying the view en route :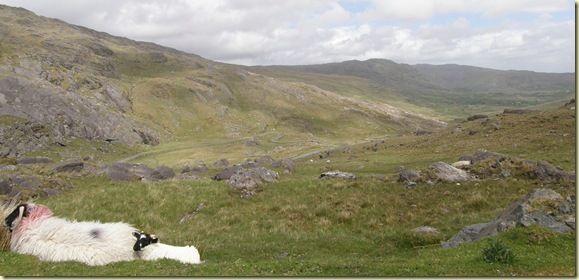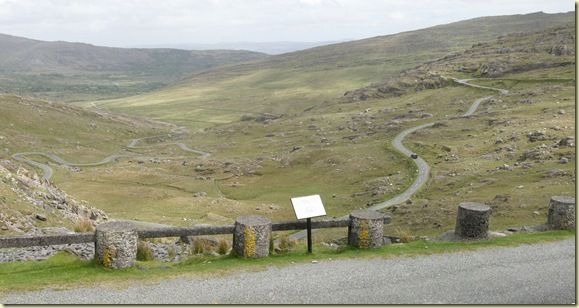 Again, once more, this was (above) the Cork County side and… this is the Kerry County side:

Finally, we finished the trip on the north shore of the Beara peninsula, facing Iveragh, and, somewhere on the other side of the Kenmare river, Sneem is hiding :